The goal for 2020 is twice as fast delivery of a parcel in flawless condition
Every time the end of the year approaches, we contemplate what the New Year is going to bring us and, most importantly, what else can we offer to the increasing number of customers who place their trust in our company. Better than anyone else, we are aware of the importance that a parcel reaches you within the shortest possible time and in impeccable condition. Because of this, and in striving to become the leading parcel service in the Baltic region, we intend to continue focusing on your growing needs.
Ambitious goals – big investments: 10 million for infrastructure and new technologies
In the next five years, we plan to invest more than Eur 10 million in the continuous improvement of our infrastructure, deploying the most up-to-date technologies and increasing employee motivation. Back in July, a renovated parcel sorting terminal of double the capacity (almost 1000 m²) was opened in Tartu to ensure the smooth collection of parcels, despite the ever-growing number of them. In September, the eighth VENIPAK terminal was launched in Latvia that allowed us to cut the longest routes for our staff in half, thus substantially shortening delivery times and improving the quality of service.

Capacity will be increased up to 10 000 packages per hour
This year, we are going to start building the largest of VENIPAK's parcel sorting terminals, which will become one of the most important steps towards the goals we have set. Exclusive innovations in the 10,000 m² parcel terminal will allow for the sorting of up to 10,000 parcels per hour, substantially increasing labour effectiveness and delivering the parcels faster and more flexibly than ever before. The rapid expansion of terminals in the neighbouring counties of Latvia and Estonia will also contribute to smoother parcel delivery.
Innovative IT solutions for fluent parcel travel map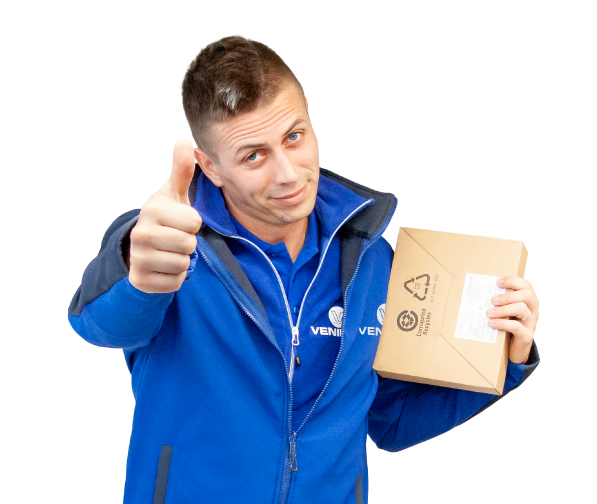 Sharing our happiness about the excellent results of the previous year and planning new years, we keep in mind that only united teamwork has allowed us to reach the place where we are now. Consequently, we plan to continue improving the everyday working conditions for our employees and investing in innovations that will allow for labour efficiency to be enhanced. As with last year, we will continue the renovation of our vehicle fleet and invest in innovative IT solutions, terminal equipment, new apparel for couriers, tools, and employee qualification improvement.
We break stereotypes and continue successful implementation of the SAME DAY DELIVERY service
We are convinced that it is essential to change things that are inconvenient and, as a result, we make every effort to ensure that a parcel should be waiting for you rather than the other way round. We are glad that the expansion of VENIPAK PICK UP which has gained such momentum enables parcels to be picked up in more convenient places at a time convenient to you, and the recently launched SAME DAY DELIVERY service has already earned the appreciation of customers who are in a constant hurry. Keeping up with the market trends, we plan to offer our customers the delivery of parcels to pick-up points shortly.
Your appreciation is proof that our efforts and innovative solutions are not left unnoticed and this simultaneously motivates us to try even harder. In the last few years, the NPS indicator that represents the overall satisfaction and loyalty of VENIPAK's customers reached 57 points in Lithuania, defined in the evaluation scale as a particularly high growth potential for the company. Estonia was not far behind Lithuania with 45 points, followed by Latvia with 37 points.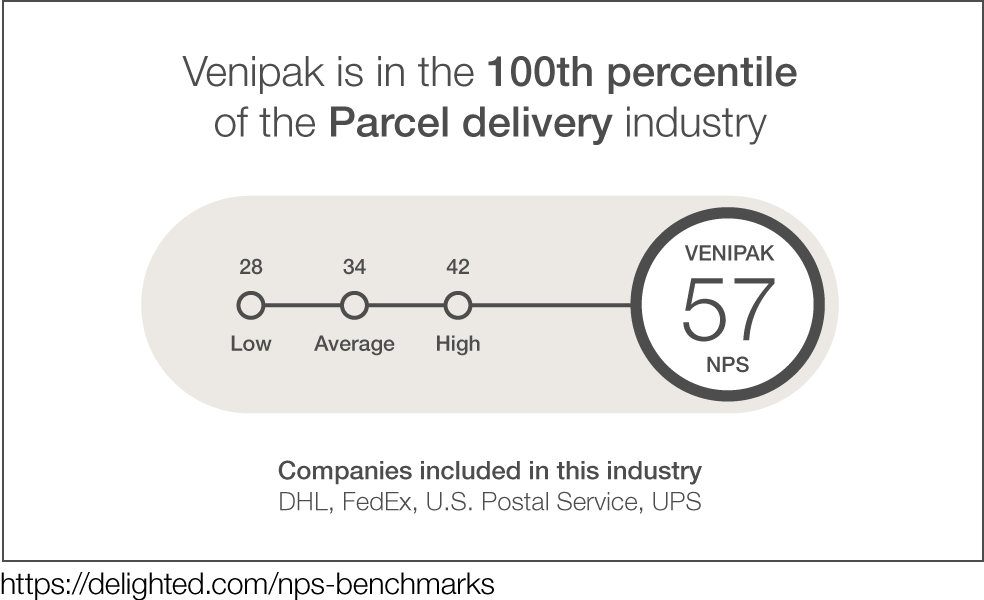 More directions – more opportunities: from the representation in Frankfurt to one in New York
Since the time we began delivering our first parcels to customers, when we introduced ourselves as a new parcel service in the Lithuanian market, VENIPAK has changed beyond recognition. Totally focusing on our customers and their growing needs, today we are a leader in the Baltic States and also a global company enabling our customers to send parcels to all countries around the world. In recent years, we have noticed a steady increase in parcel flow to and from Germany, and we recently launched a new VENIPAK representative office in Frankfurt, symbolising the beginning of our operations in Germany. Last but not least was the opening of the company's new representative offices in Warsaw, New York and Hong Kong, where we expect to start at least as well.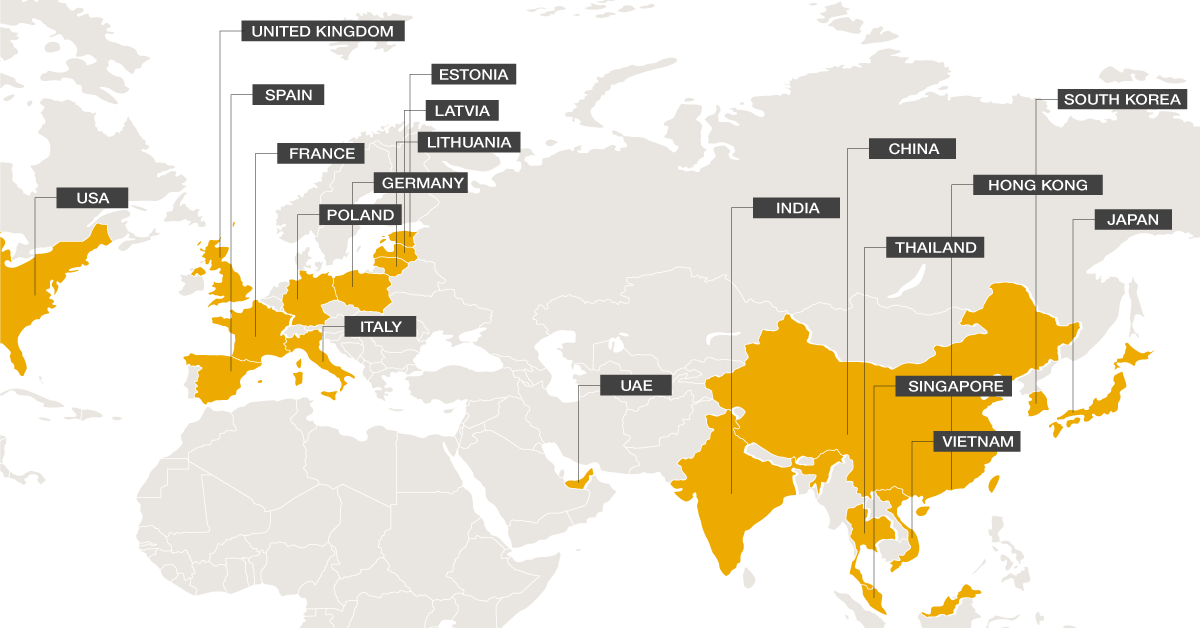 Increased number of customers is not the only incentive for improvement
Each year, while analysing our results, we notice how highly you rate our improvement. We are therefore eager to implement new ideas. The last year has been especially successful for us – the number of parcels delivered by VENIPAK increased by 14% in 2019, whereas a substantial increase in the number of customers was reflected by a 23% rise in the company's revenues. We would like to use this opportunity to share all this good news and also to thank you, dear customers, for your trust, which helps us to improve ourselves faster than ever before.
Your VENIPAK.